"The best is that all the children go back to school with their masks. There are many people who have not wanted to be vaccinated. And there are the new loose variants. I think that order is very good ".
The above opinion is of the Dominican mother and grandmother Mercedes López, resident of Upper Manhattan, who values ​​as positive the decision of the authorities of the city of New York, to maintain as a obligation to wear face protection, For all students and teachers, when school activities begin next fall, whether or not they are injected for COVID-19.
Still walked the streets of his neighborhood in Washington Heights and vaccinated, the Dominican immigrant prefers that her grandson also be protected, a rule followed by her entire family that includes four great-grandchildren of school age, who are preparing to return to their face-to-face classes in weeks.
"Put your mask on outside and inside. Especially when they have to meet other children in a closed room. As long as there are people who continue with their issue against vaccines, you have to keep taking care of yourself. That virus still ain't gone", Reacts Mercedes.
The argument of the islander, who has lived in New York for 23 years, is shared by many parents and representatives consulted, but apparently it is what also prompts the City to dictate as an obligation, continue to use protection in the mouth and nose, inside school buildings in a "universal" way.
Not all school districts in the Big Apple will follow, for now, the recommendation published last week by the Centers for Disease Control and Prevention (CDC) detailing that the staff and students who are vaccinated they are free not to wear masks in schools.
"We will continue to evaluate these policies as we move forward. I think for now it still makes sense to use face covering. It's the smart thing to do, "said Mayor Bill de Blasio, announcing a decision that continues to be discussed between the New York City Department of Health (DOHMH) and the Department of Education (DOE).
Mercedes López: "As long as there are people who do not want to be vaccinated, we must continue taking care of ourselves."
More details in weeks
For his part, Dave Chokshi, the city's health commissioner, explained that they are still reviewing the federal guide and that they will offer additional information for the school community in the coming weeks.
"What we can assure you is that the CDC guidance reflects the layered approach to COVID-19 prevention that has worked in our schools thus far. And the key is use all tools that we have ", he expressed.
The new CDC guidance also recommends keeping at least three feet apart between people inside buildings, although social distancing should not impede the total reopening of the buildings.
If students and staff cannot distance themselves, schools must take additional precautions, such as consider facial protection mandatory indoor.
The Puerto Rican teacher, Luis Suárez who teaches language lessons at a public school in Harlem, told The newspaper that sticking with the mask universally seems smart to him, but he argues that they should still be make other "moves", to maintain the social distance of three feet.
"There are classrooms overcrowded with children in certain schools, where it will be impossible to maintain that distance. The groups should be divided or classes will have to be taught in gymnasiums or auditoriums. Each campus is different, "he said.
According to the City's schedule, more than 1 million 100 students will return to the campuses on September 13, after an atypical year in which more than 60% of students they received distance classes.
The Colombian waitress Susana Parada, 38 years old, assures that still with masks and vaccines the reopening of school buildings involves many fears.
"The best thing for the boys is that they go back to their classes, with their masks and other measures. It can never be the same. The problem I see is that for example my daughter is going to study eighth grade at a school in Corona that was already overcrowded before the pandemic. There were classrooms with up to 40 studentsHe reasoned.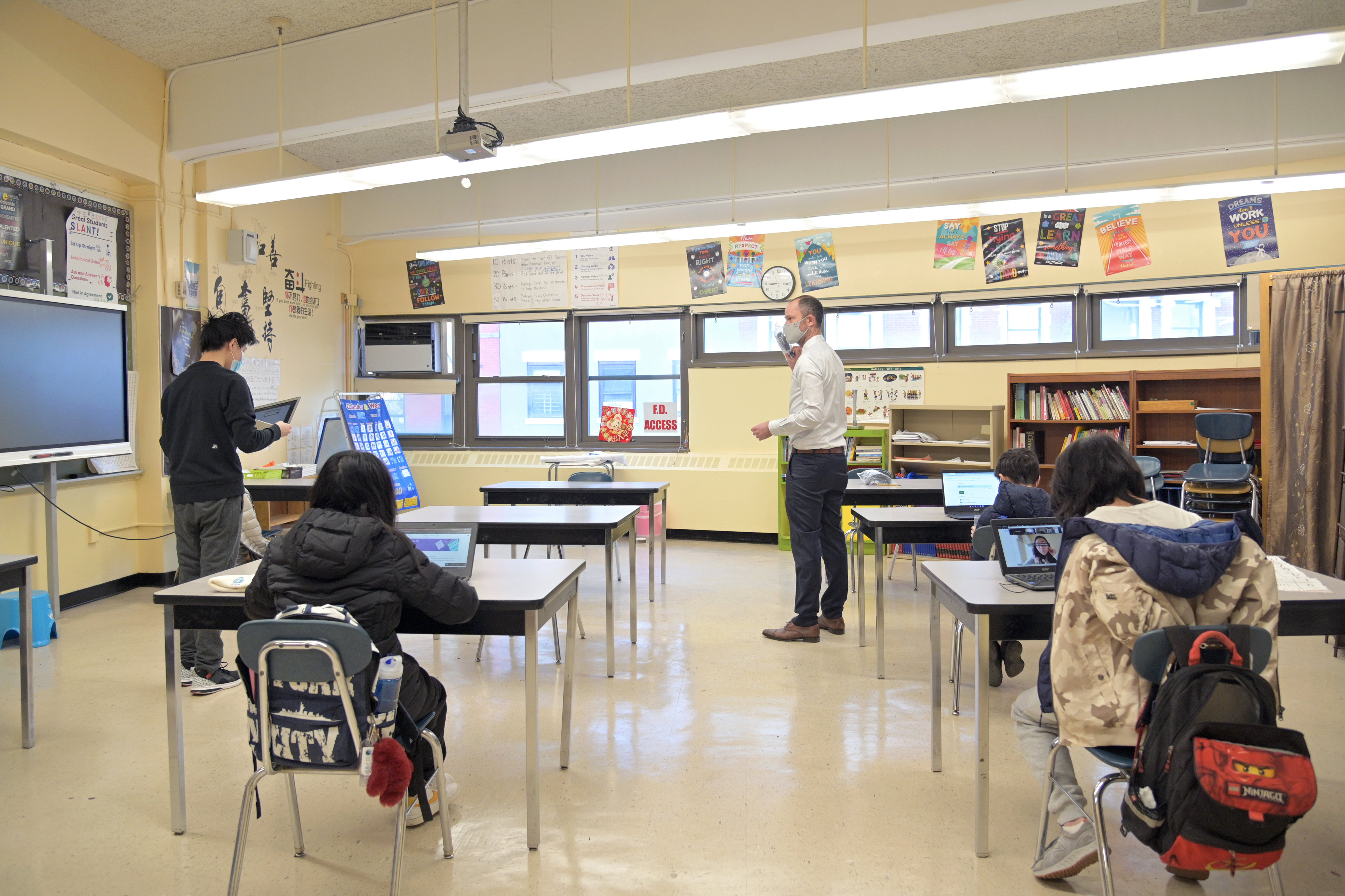 The other challenge is maintaining the 3-foot social distance at some schools. (Photo: AFP – Getty Images)
Classrooms with purifiers
The New York City Department of Education (DOE) announces additional measures to keep the school community safer: All 56,000 classrooms on public campuses will be equipped with two air purifiers by September.
So far they have been distributed 100,000 air purifiers to schools that have technology similar to high-efficiency particulate air filters.
"Any classroom that does not meet strict safety standards, cannot be used for educational purposes," a DOE spokesperson told local media.
Last school year, public schools in the Big Apple had a coronavirus positivity rate of less than 1% based on on-site testing of students and staff. Now the "full" back to school implies much broader safety plans.
In this sense, Michael Mulgrew, president of the United Federation of Teachers, (UFT) announced in a statement that this union "will review the recommendations of the CDC and will have conversations with its independent medical experts, and we will also meet with city agencies. and the state that are responsible for deciding how to proceed exactly. "
Until now, the 10% of children and adolescents from 12 to 17 years old in New York City are fully vaccinated, according to DOHMH reports.
Children under the age of 12 cannot yet receive inoculations against the coronavirus, although everything indicates that they could be available for children as young as 6 months of age in the coming months, which could change the way they are approached at this time protection measures for back to school 2021-22.
What does the CDC recommend for back to school?
Vaccination is currently the main public health prevention strategy to end the COVID-19 pandemic, but still immunization is not mandatory for students, teachers, and staff to return to their face-to-face activities. Schools should keep the less 3 feet physical distance among students within classrooms, combined with the use of inner masks by people who are not fully vaccinated, to reduce the risk of transmission. Consistent and correct use of the mask by people who are not fully vaccinated is especially important indoors and in crowded settings, when you cannot maintain physical distancing.
Students, teachers, and staff must stay at home when they have signs of an infectious disease and be referred to their healthcare provider for examination and care. When it is not possible to maintain a physical distance of at least 3 feet, it is especially important to apply various prevention strategies in layers, such as indoor masking.
Screening tests, ventilation, hand washing, stay home when sick and getting tested, contact tracing in combination with quarantine and isolation, and cleaning and disinfection are important layers of prevention in keeping schools safe. COVID-19 prevention strategies remain critical to protecting individuals, including students, teachers, and staff, who are not fully vaccinated, especially in areas with moderate to high community transmission levels. Each school district should monitor community transmission, vaccination coverage, screening tests, and outbreaks to guide your decisions.
Low incidence of COVID-19 in schools