Denise Marie Sheehy.
Photo: @QueensDAKatz / Courtesy
When she was a teenager, Denise Marie Sheehy disappeared on July 7, 1970, exactly 51 years ago, in what is considered one of the longest police mysteries in the history of New York and all of the United States.
Last week, remembering the anniversary of his tragedy through Twitter, the Queens Prosecutor's Office reiterated the call to anyone with information about the "cold case". "It has been 51 years since Denise Sheehy was last seen leaving her home in Woodside, disappearing without a trace. His family and loved ones are still looking for answers.
At the moment Sheehy I was a small 16-year-old teenager, 5'3 ″ tall and 103 pounds, who lived in the 48-16 46th Street building. Today I would be a 67-year-old woman, making it difficult to imagine what it would look like today.
According to the original report, the minor disappeared after an argument with his mother, the afternoon of the birthday of one of his two sisters. He left the house of his own free will, but did not take anything with him when he left.
The main theory held in relation to the case is that the young woman ran away from home momentarily to vent after the argument, but then went kidnapped or possibly assaulted. This is supported by the limited sightings of Denise after her disappearance and the lack of evidence found. At this point, investigators aren't sure what actually happened to her, and it's possible that she voluntarily stayed away or suffered memory loss.
Investigators ruled out her boyfriend as a suspect and her family have stated that they do not believe he was involved. Denise has not been declared legally dead. For years his parents and sisters watched numerous photos of unidentified dead women across the country, but they never recognized Denise in any of them. In an interview with Daily News in 2013, her sister Lorraine Sheehy Diehl said she is still waiting for her.
In a similar case, in Connecticut a woman has been missing for 36 years and his family also hope to know his whereabouts. Anyone with information on a missing person should contact 911 or the New York State Division of Criminal Justice Services at 1-800-346-3543.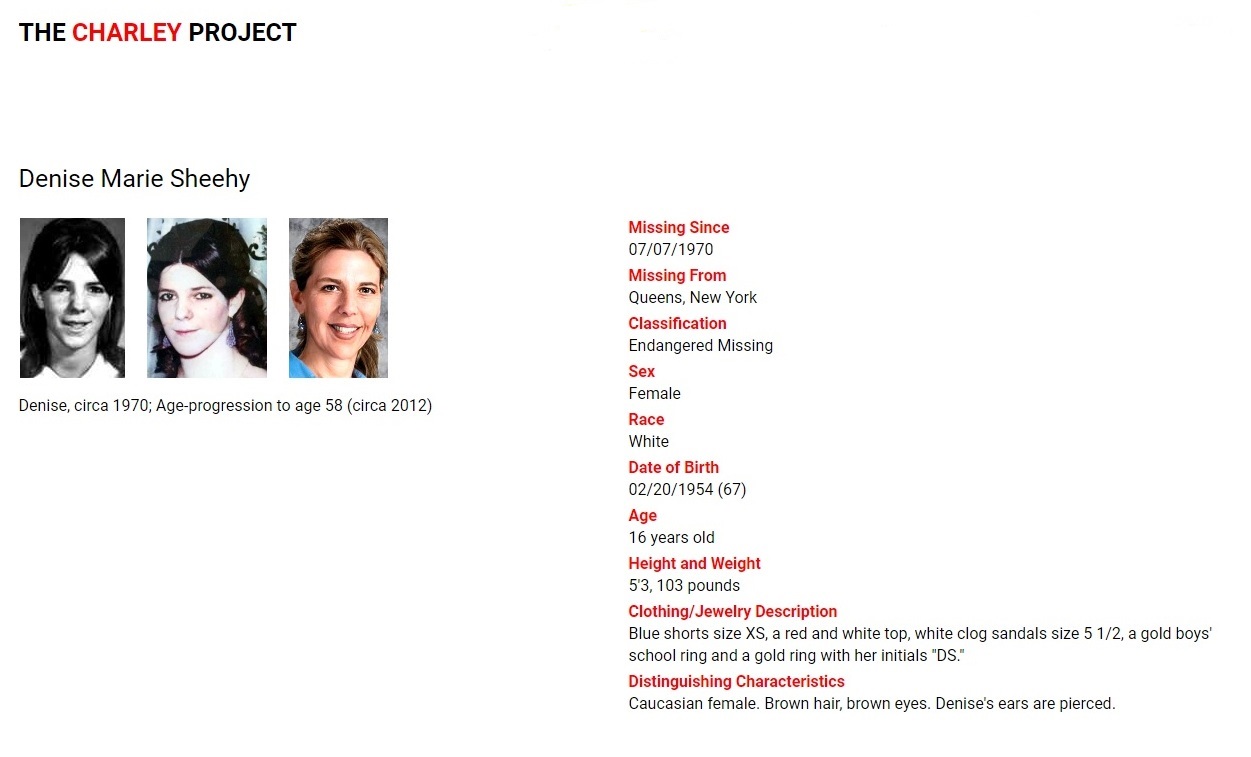 Denise Marie Sheehy in projected age to 2012.
62-year-old woman awaits reunion with her sister, who's been missing since 1970 http://t.co/jYmrQUzL9q via @nydailynews

– denise kershner (@denise_kershner) May 9, 2013
Today marks 51 years since Denise Sheehy was last seen leaving her home in Woodside, disappearing without a trace. Her family and loved ones still search for answers.

If you have any information, contact @NYPDTips. All tips are confidential! #ColdCaseUnit pic.twitter.com/nkYGRPxOKm

– Queens DA Katz (@QueensDAKatz) July 7, 2021