09/02/2021 at 05:40 CEST
The press who traveled to Tokyo for the Paralympic Games received an invitation to climb this Thursday to the Tokyo Skytree, the tallest tower in the world. The weather made us doubt whether to sign up, as it predicted rain, but we did not want to miss the opportunity to visit such an emblematic place.
We arrived with few expectations for the appointment and they were confirmed as soon as we got out of the elevator at the first stop, 350 meters high, which can be accessed in a few seconds. No views, just clouds, all white, as if they were translucent crystals. The Japanese invited us to take photos next to a screen with an image with the views that we were missing, even they gave us a video so that we were even more aware of the bad luck we were having. Very Japanese this detail. Come on, it was the same as seeing it live … After the beautiful film was finished and, after writing our wishes on a tape and hanging it on a kind of wish tree, we climbed up to 451.2 meters. The highest point that can be accessed.
The Skytree Tower Wish Tree
| AF
Any. The clouds remained intact and thick to prevent us from enjoying the breathtaking views that we had been promised.
Our guide invited us to go up again in the elevator, by the way, each elevator has a different design, and we descended to 345 again where a glass floor awaited us. At first nothing, white again, but suddenly Tokyo gave us about 15 seconds of sight. We get excited at times. It lasted little, very little, but it was worth it.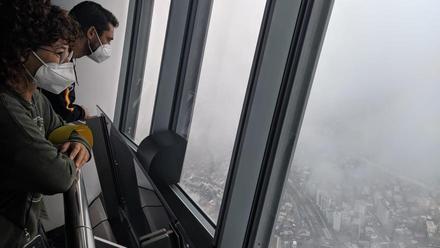 The views only appeared for a few seconds but we were able to capture them
| MM
We will have to go back to find out what did we miss this Thursday that promised strong emotions. We were able to get a little idea, enough to make us want more.