09/02/2021 at 11:52 PM CEST
SPORT.es
Barça traveled to Cantabrian lands this Thursday to play the second and last friendly match after Granollers before the Super Cup on Saturday that He resolved with a note in the mythical Albericia against Liberbank Cantabria BM Sinfín (22-39).
WITHOUT
FCB

LIBERBANK CANTABRIA BM SINFÍN, 22
(12 + 10): Ernesto Sánchez (p.) (Pau Guitart, ps), Xavi Castro (7), David Roca (3), Alberto Pla (2), Leonardo Alonso (4), Álex Blázquez (2), Ramiro Martínez (1), Sergio Rubio (2), Herrero Lon (1), Ángel Basualdo and Pardo.
FC BARCELONA, 39
FC Barcelona, ​​39 (19 + 20): Leo Maciel (l.), Domen Makuc (2), Dika Mem (4), Haniel Langaro (2), Ludovic Fàbregas (1), Blaz Janc (2), Ángel Fernández ( 1) –starting seven–, Pérez de Vargas (ps), Thiagus Petrus, Aleix Gómez (4), Luka Cindric (1), Melvyn Richardson (10), Luís Frade (6), Aleksandr Cenic (1), Ali Zein ( 2) and Martí Soler (3).
SCORE EVERY FIVE MINUTES
2-3, 3-7, 7-9, 7-13, 10-15, 12-19 (rest), 14-22, 15-24, 17-29, 19-31, 20-35 and 22-39 (final).
In the first edition of the 'Unicaja Tournament' one of the main protagonists was Angel Fernández from Asturias, who returned to play at his 'home' three years after changing Logroño for Kielce, where he has played and shone under Talant Dujshebaev.
Anyway, the big star of the match has been Gaul Melvyn Richardson, one of the main talents of the new French generation who completed a sensational performance with 10 goals from 10 shots (five in each half). Little by little the Barça fans will realize the enormous dimension of a signing that has reached Montpellier at zero cost.
In addition, and despite the fact that at first it did not seem to be planned, Egyptian Ali Zein made his debut and scored his first two goals as a Barça player after missing the first weeks of the preseason as a result of a broken finger on his right hand that occurred at the Tokyo Games (he no longer played the bronze match against Spain).
Finally, Croatian Luka Cindric has also 'premiered' in the preseason, who missed the first friendly against Granollers due to some inconvenience. Without the retired Raúl Entrerríos and Aron Palmarsson, the Croatian is called to become the team's main reference in creation.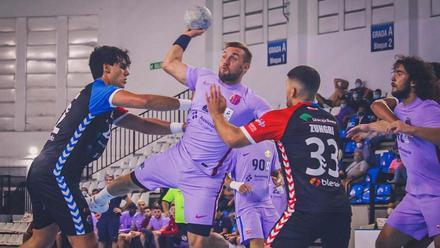 Luka Cindric played his first minutes in the preseason
| FCB
At second meeting on the bench a Carlos Ortega That this Saturday he could win his first title on the Blaugrana bench after winning among six other European Cups with the Dream Team, Barça was slow to enter the game, especially in attack.
With Xavi Castro as the main stiletto, the Cantabrian side overcame a bad start (3-7 in minute 10) to get closer to two goals in the middle of the first act (7-9), but from there the current champion of all handball titles calmed down and, with four goals in a row from Richardson, escaped definitively (8-14 in 21 ').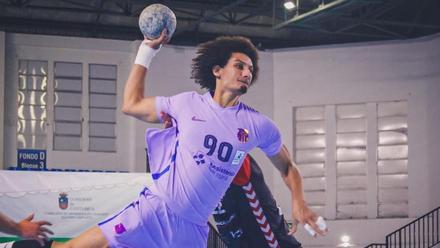 Ali Zein made his debut in Santander as a Barça player
| FCB
The Malaga Ortega made his debut for Ali Zein in those final moments of the first half and a Luís Frade joined the party who did not miss any of his six shots to allow the Catalans to go to the locker room with a very favorable score (12-19).
At the resumption, Barça gradually increased its advantage with Dika Mem unstitched (17-29 in 45 ') and in the final stretch of the match a new streak of Richardson joined by the young Martí Soler and Aleksandr Cenic they allowed the sound 22-39 that gave FC Barcelona the 1st Unicaja Trophy.