09/03/2021 at 6:36 PM CEST
The FC Barcelona follows immersed in the preseason more 'sui generis' of the last years due to the absence of the seven players who will play the World Cup with their national teams (Dídac, Adolfo and Carlos Ortiz with Spain, André Coelho with Portugal and Ferrao, Dyego and Pito with Brazil).
This has motivated the new Barça coach Jesús Velasco to have only five players from the first team in these first weeks of work. Are goalkeeper Miquel Feixas, Brazilians Marcenio and Matheus, youth squad Bernat Povill and the Russian-Brazilian Leandro Esquerdinha, who will miss this weekend's appointment as a precaution when dragging a few minor annoyances.
For its part, Captain Sergio Lozano is getting closer to receiving medical discharge, but he is still not one more in the group and continues to work with the aim of being at the disposal of the Toledo coach on the second weekend of October in the league debut against Palma Futsal.
A good part of the training sessions have been combined with the subsidiary led by Xavi Closas and that the Second Division league will begin next weekend at the Ciutat Esportiva against the powerful Atlético Mengíbar.
The debut of this first team pieces poker will also be marked by these conditions and therefore FC Barcelona will play the Ripollet Tournament this weekend with two different teams.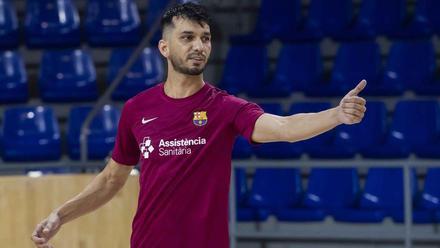 Esquerdinha will not play on Sunday against Ripollet
| FCB
This Saturday at 9:00 p.m. the Barcelona subsidiary under the command of his historic coach Xavi Closas He has before him a very tough test against Emotion Zaragoza of the First Division, a team led by David Marín and which was one of the sensations last year, finishing seventh and forcing the third match in the quarterfinals against Palma.
And on Sunday the 'premiere' of Miquel Feixas under the sticks, Marcenio, Matheus and Povill, who will reinforce Barça B at the close of the tournament against host Ripollet at 6:00 p.m.
Always under the supervision of a Velasco who has actively participated in the training of the subsidiary, Closas stressed that competing against a Primera "is a motivation for us that will allow us to see our real level and if we are very far or not from them. And training with first-team players is also a luxury, because we learn from the best and require us to perform at our best every day to be at the elite level & rdquor ;.