09/03/2021
On at 07:23 CEST
One of the great stars of the Tokyo Olympic Games was undoubtedly the Barça athlete Yulimar Rojas with her gold in triple jump with a spectacular world record (15.67 meters) that brings her closer to a barrier of 16 meters that seemed like science fiction until her breakthrough.
At 25 years old and after adding Olympic glory to his indoor and outdoor world titles, the Venezuelan already poses new challenges, such as the referral of continuing to approach those 16 meters or combining the triple jump with the length for next year's World Cup in Eugene.
Taking advantage of his trip to Barcelona to perform the kick-off at the Nou Camp in the league duel against Getafe that ended with Barça's 2-1 victory, Yulimar Rojas had a long and interesting talk with SPORT.
Almost a month has passed since the Games. How do you handle it?
I still haven't fully assimilated it. That moment, the Olympic gold, the world record … I don't believe it. I am like in a cloud, but at the same time I feel identified with what we have done, because it has been based on effort and a lot of work. And we deserve it, because we emptied ourselves in Tokyo and gave everything we had.
You were already silver in Rio. Had he been waiting for that moment for five years?
You know? Since the Colombian Catherine (Ibargüen) surpassed me in Rio, from that minute I already visualized myself winning gold in Tokyo. I came to Rio as a rookie and now I was much more developed, with more experience and that had to push me towards my dream, which was to be an Olympic champion. In that transit, little by little I was polishing with my coach Iván (Pedroso), we were conquering world championships, surpassing each other and improving all the details to reach the maximum.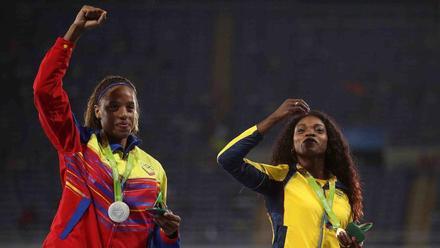 Yulimar Rojas, with silver in Rio 2016
| .
How did the postponement of the Games affect you?
He had just broken the world indoor track record (15.43m) and the Games were almost around the corner when everything faded and you had to start from scratch. Anyway, I knew that the gold had to be for me and if we had waited almost four years, we had to take advantage of that extra year to get even better to Tokyo and it was. At first the postponement was a stick, but when we assimilated it we understood that it could benefit me to arrive more prepared, with a plus.
Was it already like an obsession?
No. It was the big goal. I did not compete indoors and we take winter as a training stage to focus on the Games. So, super happy, because that dream I had since Rio has come true one hundred percent.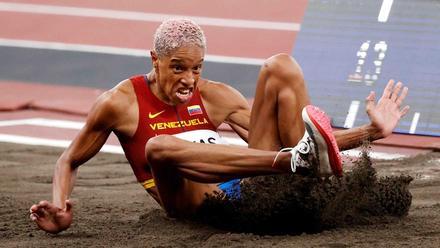 Yulimar Rojas, after a jump in the triple Olympic final
| .
One of her nicknames is 'La Guerrera'. Do you feel like a warrior?
We have had to fight a lot and I have always been a warrior. It is not easy to be away from your loved ones for so long, without seeing them and working every day, but it is worth it. I am not going to change. Let's see if they continue to classify me like that together with my coach, who has also been a warrior. Hopefully between the two warriors we continue to achieve success.
And looking at his childhood in a humble Venezuelan family. Are you an example that anything is possible?
Of course. In my country they give us few opportunities to conquer our dreams. In sports, support has declined a lot, that hand that we need to emerge. I feel privileged to be here fighting for my goals. Hopefully this will be an impulse for many more Yulimar Rojas to come out and that the boys and girls feel proud and are reflected in these achievements.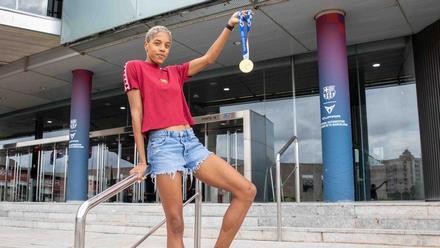 The Venezuelan, with her gold next to the Estadi
| DAVID RAMÍREZ
Would you like to be an icon?
Let's see, it has not been easy to get here, but it has been achieved with a lot of sacrifice and of course dreams can be fulfilled, but we need that boost, that support. I know that this medal will generate a lot of happiness and a lot of concern in children, especially in the new generation. I would love for them to want to be like me and, above all, to achieve it. In my country there is a lot of talent, many children hungry for success and I hope that my medal will be part of a movement that helps strengthen the sport in my country and that more champions come out.
Some ask for your nationalization, but forget that you are Venezuelan to the core …
Ha ha. Well, I've heard that many times. If he has been in Spain for so long, let him compete for Spain. If there is one thing that I have been clear about since I arrived, it is that I have never forgotten my roots or where I am from. Iván once told me that my nationality had to always prevail to make history in a country that does not have so many elite athletes. To be a legend in a country that is struggling and that is not at its best. That stuck with me. I have always been Venezuelan and I will keep it on my chest until I die.
You jumped 14.50 and it seemed like you didn't know how to jump … Incredible!
(Laughs) At that time it was quite unstable. He could jump 14.50 one day and 13.80 the next or make two voids. His technique was not polished and he jumped a bit to whatever came out. What we have improved the most is in technique. Also, I'm faster and stronger now. You can see my most beautiful jump, right? In all competitions I have jumped stable over 15 meters, which is what we were looking for this year, And now, not to go down from there and scratch to continue improving.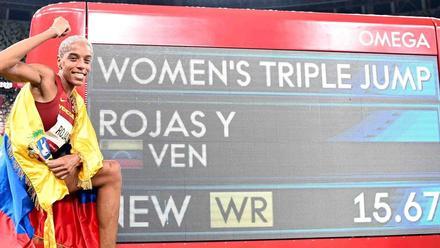 Yulimar Rojas, in Tokyo after breaking the world record
| .
His coach Iván Pedroso You passed thirty feet in training and you have come very close to 16. Is that barrier surmountable?
I have never believed it to be impossible. It would be incredible, yes. Many people say that it is impossible for a woman to jump 16 meters, but I have that thorn there that I can achieve it. I'm already at 15.67. I'm getting a little closer, right? I know I can give more and I am very calm, because we are getting closer and it is the next thing I have in mind. The Olympic gold and the world record have already passed and now I know that I can reach 16 meters.
Will we also see it in length next year?
Yes Yes. We had it planned for the Games, but it was impossible because of the schedule. It is another challenge without ever forgetting that our test is triple. Since I have a great jumping ability, the length works well for me as well. We will do it the year at the World Cup, already better prepared and a little more focused. I can jump over 7.30, which is another goal we have there. I have to improve more technically and keep fighting for my goals. Next year many will be surprised when they see me jumping length, but I can go a long way.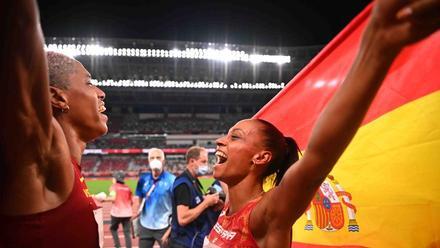 Yulimar and Peleteiro celebrate their medals in Tokyo
| .
To finish, tell us a little about 'our' Ana Peleteiro.
Ana has a lot of talent and a great attitude to go even further than in the Games. He has risen little by little and it has been good for him to be with Iván, who has rescued his talent and has polished it little by little. We have a very competitive group and that helps us to continue to improve ourselves. She is very brave competing and I am very happy that she is with us, that she takes advantage of me and I of her to improve, and that we have a great friendship. Together we share the same love for sports. It will go further and we will continue to see it in the news for many years.