09/06/2021 at 12:38 AM CEST
Barça lost the final of the Catalan League this Sunday for the second consecutive season. If last year it was against MoraBanc Andorra, this time the executioner has been a much more intense, shot and hungry BAXI Manresa that has prevailed 81-70 at the Nou Congost with 28-14 in the last quarter.
Long the best azulgrana has been Rolands Smits, author of 14 points and practically the only one that has really stood up to Manresa's interiors, with Ismaël Bako and the emerging Catalan Yankuba Sima as the main references.
"It has been a hard day, because we have not played as we have to play and we have lost. We have to analyze the failures and continue to improve. It seemed that they wanted more than us and that is the reason for their victory. "lamented the versatile Latvian player.
"Now we have to prepare for next week's Super Cup so that what happened to us in this final is not repeated. As for me, I am feeling better in each training session and in each game. In a very short time I hope to be perfectly fine, "added the Montakit Fuenlabrada youth squad.
Saras, constructive
For its part, Sarunas Jasikevicius measured his criticism and opted for a constructive speech ahead of the Super Cup after a match in which, as in the semifinals, he could not count on Sertaç Sanli or Pierre Oriola. And these god absences in the 'painting' were key to local dominance under the hoops.
"We knew we were going to suffer and that's what happened. We must congratulate Manresa and Pedro Martínez. They have done a good job. They were more rolled and more prepared. In some moments we were good, but it was not enough, "began the Lithuanian, who was not satisfied with the semifinals either despite the victory against Penya.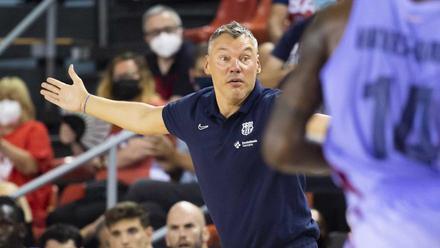 Jasikevicius explained that the week has not been good
| FCB
"In the last quarter they scored us 28 points, many of them energy, and we had a lot of rebounds in attack, a subject that we controlled quite well in the first two quarters, but then we were very bad. This has just started, but It has been a bad week for us and I am not only talking about this tournament. In the semifinals we only had a good quarter. Today we have done a little better, but we have neither trained well nor played well, so we have to learn the lesson ", Saras warned.
Despite this, it is time to face the next weekend with enthusiasm. "A very special week awaits us, because it will be the first title of the season. We cannot forget that there are people who are going to miss training due to commitments in the Endesa League and the Euroleague, but we will try to get to Tenerife in the best possible way and play a good game against Valencia, who have a very good team, "he said in reference to the rival in the semifinals on Saturday.